The OVA was released on 24 October 2018. The new OVA tells the story about Hoshitani and friends on Halloween. The OVA will feature a music video for the song "Storytellers."
The opening theme is "Horizon" by Hoshitani Yuta, Nayuki Toru and Tsukigami Kaito and the ending theme is "DEAR DREAM!" by Hoshitani Yuta, Tengenji Kakeru and Kuga Shu.
Other songs in the anime will include "Pumpkin Mate♪" by Hoshitani Yuta, Tatsumi Rui, Ageha Riku and Kitahara Ren and "Wanna be Scream?" by Ageha Riku, Hachiya So, Nanjo Koki, Saotome Ritsu and Futaba Taiga.
Summary
Episode List
No.
Image
Title
Original airdate
__
150px
Act __
Dai __ Maku (第__幕)
24 October 2018
Trailers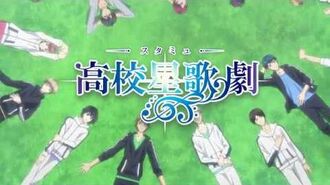 Gallery
External Links
* [https://www.bilibili.com/video/av35203507 Insert Songs]