Ancient(アンシエント)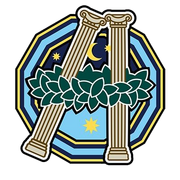 The Ancient (アンシエント, Anshiento) is a term referring to the previous Kao Council members that have graduated from Ayanagi Gakuen. Each year, a batch closely related to the Kao Council members starring in the current musical will return to coach the 2nd year musical department students until summer, before the actual rehearsal starts for the 《Graduation Concert》Musical『Shadow&Lights』.
Members
List of Songs
Gallery
Trivia
All of the members' family names have a kanji character in relation to the astrological signs.
Saotome (早乙女) : Otomeza (乙女) - Virgo

Saotome is a reversed Otomeza (in English)

Futaba (双葉) : Futagoza (双) - Gemini
Uozumi (魚住) : Uoza (魚) - Pisces
Tsukigami Haruto - ?????
References